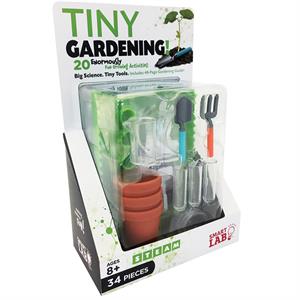 Novelty
Tiny Gardening!
Hoe, hoe, hoe! It's time to make a garden grow!
With this 34-piece kit, budding botanists build a teeny greenhouse and use itty-bitty garden tools to plant seeds in tiny pots. They can label their sprouts with tiny garden markers and decorate the greenhouse with full-color removable clings. When all the experimenting is over, kids can transplant their seedlings into the garden and start over. We give this itty-bitty botany lab two green thumbs up!
Includes 8-piece miniature greenhouse, 3 tiny pots, 3 tiny test tubes, tiny hand shovel, tiny hand fork, tiny beaker, 3 tiny garden markers, illustrated greenhouse roof and wall panels, string for hydroponic watering, a tiny ruler to measure your plants as they grow, petri dish, green and blue filters, decorative clings, marker stickers, and an illustrated 48-page book with 20 science experiments and explanations.
To ensure quality, children will supply their own garden soil and beans or seeds. The types of beans and seeds that work best are listed inside the book. Two experiments use isopropyl alcohol. Always have an adult handle the rubbing alcohol.
Read More
More From Novelty
Out of Stock

Mini Lite Brite

Out of Stock

Out of Stock

Mudpuppy Kaleidoscope

6 Options Available

Out of Stock

Out of Stock

Fart In A Can

Out of Stock

Out of Stock

Out of Stock

Sparkling Rainbow Baton

Out of Stock

Out of Stock

Out of Stock

Multi Voice Changer

Out of Stock