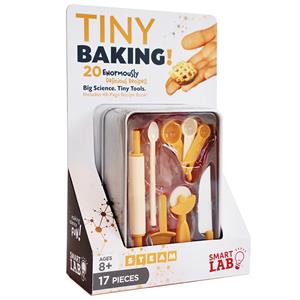 Novelty
Tiny Baking!
Got an appetite for science?
With miniature culinary tools and easy-to-follow recipes, this 17-piece kit taps into two growing trends: child chefs and the fascination with creating tiny food. The immediate appeal of this kit is the tiny kitchen tools. With them, young kitchen chemists will measure ingredients with the custom wee-spoons, whip up batters in the mini mixing bowl, roll out dough with the teeny rolling pin, and more! The 48-page illustrated book features 20 recipes for both sweet and savory dishes.
Includes storage tin, 3 wee-spoons, silicone cake and cupcake pan, aluminum cookie sheet, aluminum pie pan, pie server, mixing bowl, mixing spoon, knife, pizza cutter, rolling pin, silicone finger mitts, and a 48-page illustrated recipe book.
Ingredients are not included in the kit. You can find a complete list of ingredients used in the recipes inside the book. Adult assistance is required when using the oven.
Read More
More From Novelty
Out of Stock

Mini Lite Brite

Out of Stock

Out of Stock

Fart In A Can

Out of Stock

Out of Stock

Out of Stock

Sparkling Rainbow Baton

Out of Stock

Out of Stock

Multi Voice Changer

Out of Stock