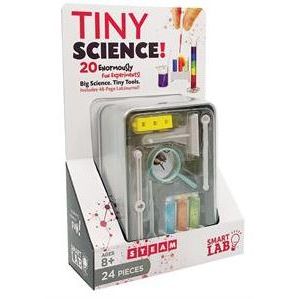 Novelty
Tiny Science!
How small is the tiniest ball of slime you can make?
This 24-piece miniature science lab features precision science instruments tucked inside a compact storage tin. Young chemists will mix up experiments in itty-bitty beakers, test tubes, and flasks as they make a density rainbow, stretchy slime, invisible ink, a bubbling volcano, and other scientific creations. The kit contents store back inside the tiny tin, and its grab-and-go size makes it perfect for sleepovers or after-school science adventures.
Includes metal storage tin, 3 test tubes, test tube stand, beaker, Erlenmeyer flask, graduated cylinder, funnel, petri dish with lid, balance scale and 3 1-gram weights, magnifier, stainless steel ruler, pipette, measuring scoop, and illustrated 48-page book with 20 science experiments and explanations.
Ingredients are not included in this kit. Most of the experiments use common household ingredients such as baking soap, dish soap, vinegar, and salt. With all science experiments, adult supervision is suggested.
Read More
More From Novelty
Out of Stock

Mini Lite Brite

Out of Stock

Out of Stock

Fart In A Can

Out of Stock

Out of Stock

Out of Stock

Sparkling Rainbow Baton

Out of Stock

Out of Stock

Multi Voice Changer

Out of Stock