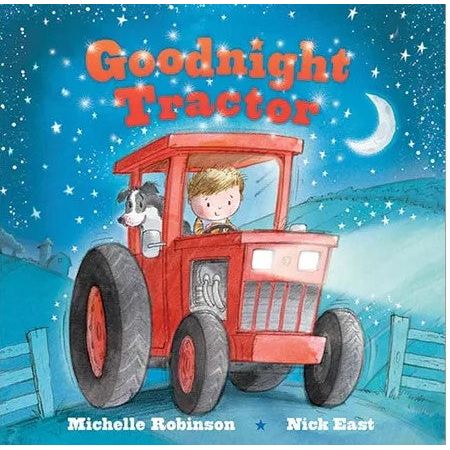 Games, Puzzles, & Books
Goodnight Tractor
 Getting ready for bedtime has never been so much fun! Sweet, gentle rhymes lead the way through this book of all things down on the farm — with a goodnight twist.
Follow along in this bedtime book perfect for tractor-loving kids as you say "night night" to everything from the plow and combine, to the pigs in the pen. Can your farming fanatic spot each piece of machinery and animal as you go?
This bedtime book is perfect for farm equipment enthusiasts, John Deere fans, or any kid who loves farm animal stories as they count sheep, heading off to sleep.
Best gift book idea for:
Boys and girls who love animal sounds or powerful machines.
Toddlers and kids who can't get enough of plows, harvesters, and other big vehicles.
Kids aged 1 – 4 years old.
Calming rhyme perfect for bedtime relaxation routines and family read alouds.
Fun, engaging art that's sure to make it a storytime favorite. 
Read More
More From Baby Books
Out of Stock

Lights 'N' Music Baby Book

Out of Stock

Out of Stock

Noisy Dinosaurs

Out of Stock

Out of Stock

Noisy Baby Animals

Out of Stock

Out of Stock

Dance with the Dinosaurs

Out of Stock

Out of Stock

Noisy Animals

Out of Stock

Out of Stock

The Perfect Birthday Recipe

Out of Stock

Out of Stock

8 Little Planets

Out of Stock

Out of Stock

Penguin Says Please

Out of Stock

Out of Stock

Little Sunbeams Religious Lift-A-Flap 4 Book Set

Out of Stock

Out of Stock

Out of Stock

Night Night Arkansas

Out of Stock

Out of Stock

Noisy First Words

Out of Stock

Out of Stock

Octopus Opposites

Out of Stock

Out of Stock

Hello Baby! Buzz, Buzz

Out of Stock

Out of Stock

Bear Says "Thank You"

Out of Stock

Out of Stock

The Little Fire Truck

Out of Stock