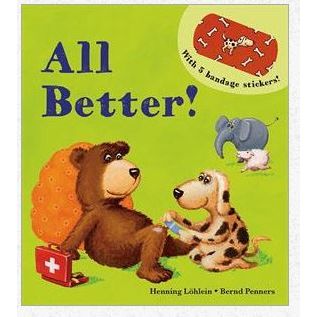 Games, Puzzles, & Books
All Better!
Dog hurt his foot, Sheep scratched her tummy and Bear sat on a splinter! What will make everything all better? Clean it, kiss it and put a bandage on it! Young readers will delight in the five animal friends' misadventures and be eager to help make things "all better" with the 
five reusable and repositionable
 stickers.
To freshen stickers after heavy use, run under cold water and let air dry.
Read More
More From Baby Books
Out of Stock

Lights 'N' Music Baby Book

Out of Stock

Out of Stock

Noisy Dinosaurs

Out of Stock

Out of Stock

Noisy Baby Animals

Out of Stock

Out of Stock

Dance with the Dinosaurs

Out of Stock

Out of Stock

Noisy Animals

Out of Stock

Out of Stock

The Perfect Birthday Recipe

Out of Stock

Out of Stock

8 Little Planets

Out of Stock

Out of Stock

Penguin Says Please

Out of Stock

Out of Stock

Little Sunbeams Religious Lift-A-Flap 4 Book Set

Out of Stock

Out of Stock

Out of Stock

Night Night Arkansas

Out of Stock

Out of Stock

Noisy First Words

Out of Stock

Out of Stock

Octopus Opposites

Out of Stock

Out of Stock

Hello Baby! Buzz, Buzz

Out of Stock

Out of Stock

Bear Says "Thank You"

Out of Stock

Out of Stock

The Little Fire Truck

Out of Stock

Out of Stock

Goodnight Tractor

Out of Stock