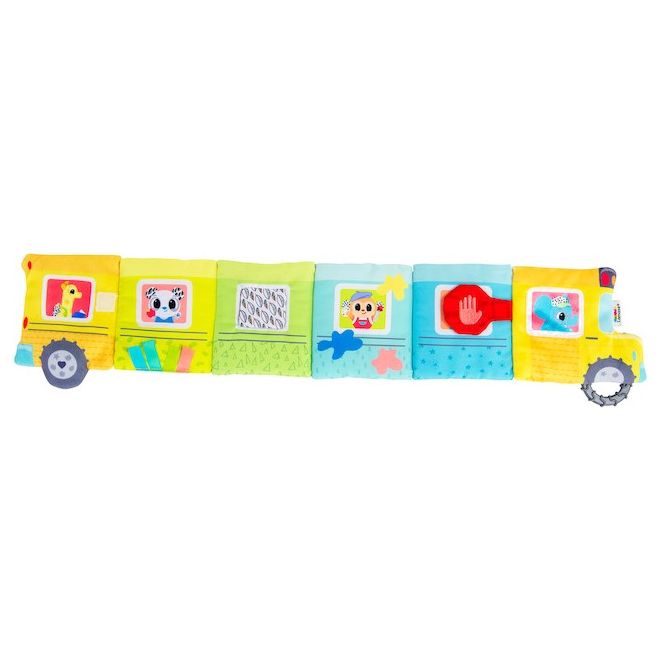 Early Learning
Lamaze Accordian Bus
Send their senses to school!
This adorable fabric bus unfolds to reveal bright colors, friendly faces in every window, plus a mirror hidden under a crinkle flap.
Meanwhile, one wheel is a textured teether, the other wheel is a squeaker, and when you flip the whole thing over, you'll find black-and-white illustrations depicting lovely schoolyard scenes.
It's a perfect start to their educational journey!
Lamaze Accordion Bus
Fabric sensory book that unfolds to become a school bus
Encourages sensory learning, cause-effect learning
Bright, vibrant colors and black-and-white illustrations engage the eyes
Mirror hidden under a crinkle flap
One wheel is a textured teether, other wheel is a squeaker
Includes one Accordion Bus
Measures 7 x 2 x 7 inches when folded up
High-quality materials and construction - Exceptionally safe and durable
Read More
More From Baby Books
Out of Stock

Noisy Dinosaurs

Out of Stock

Out of Stock

Noisy Baby Animals

Out of Stock

Out of Stock

Dance with the Dinosaurs

Out of Stock

Out of Stock

Noisy Animals

Out of Stock

Out of Stock

8 Little Planets

Out of Stock

Out of Stock

Penguin Says Please

Out of Stock

Out of Stock

Little Sunbeams Religious Lift-A-Flap 4 Book Set

Out of Stock

Out of Stock

Night Night Arkansas

Out of Stock

Out of Stock

Noisy First Words

Out of Stock

Out of Stock

Octopus Opposites

Out of Stock

Out of Stock

Bear Says "Thank You"

Out of Stock

Out of Stock

The Little Fire Truck

Out of Stock

Out of Stock

Goodnight Tractor

Out of Stock