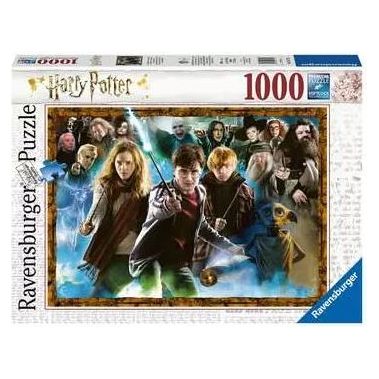 Puzzles
Magical Student Harry Potter 1000 pc Puzzle
Wands ready — it's magic time!
Our Magical Student Harry Potter puzzle is ready to cast a spell over you! Our young heroes face off against Lord Voldemort and his crew of Death Eaters, including Lucius Malfoy and his son Draco, Bellatrix Lestrange, and Peter Pettigrew. But our stalwart trio has help from Professors McGonagall and Trelawney (and surprisingly, Snape!), Hagrid, Dobby and of course, the mighty Dumbledore. There's also Harry's stag Patronus and a Golden Snitch — quidditch anyone? Perfect for any Harry Potter fan!
This 1,000-piece jigsaw puzzle combines captivating imagery with clean-cut pieces and Ravensburger's perfect interlocking fit for a most pleasurable puzzling experience. Create memorable moments with Ravensburger premium puzzles!
Read More
More From Games, Puzzles, & Books
Out of Stock

Super Mario Blow Up! Shaky Tower

Out of Stock

Out of Stock

Picture Charades

Out of Stock

Out of Stock

Super Mario Piranha Plant Escape!

Out of Stock