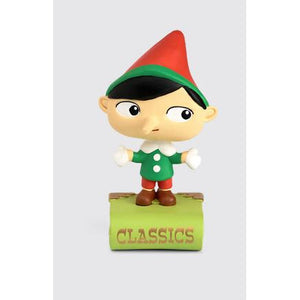 Who will you spend storytime with?
The Toniebox comes to life when paired with our whimsical collection of Tonies: hand-painted characters with hours of stories to tell, worlds to explore, and songs to sing along with. Each collectible character magnetically attaches to the Toniebox, making it simple for little listeners to change stories whenever they want.
Collect them all
Whether educational content, audiobook or sing-along songs, each hand-painted Tonie figurine is a unique listening experience.
Stories:
1. Pinocchio
2. Alice's Adventures in Wonderland
3. The Jungle Book
4. The Wonderful Wizard of Oz
5. Treasure Island
Total Run Time: 85 minutes
Description:
Five timeless classics adapted for little listeners. These masterpieces have inspired generations of young minds -- and continue to do so today.
This Tonie teaches kids about:

Honesty

Value intuition

Always stand up for yourself

The impact of their choices and actions

Improve and embrace your surroundings