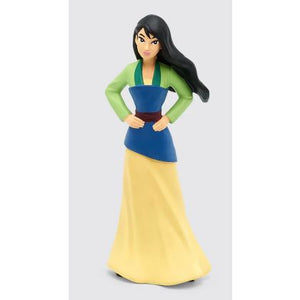 Who will you spend storytime with?
The Toniebox comes to life when paired with our whimsical collection of Tonies: hand-painted characters with hours of stories to tell, worlds to explore, and songs to sing along with. Each collectible character magnetically attaches to the Toniebox, making it simple for little listeners to change stories whenever they want.
Collect them all
Whether educational content, audiobook or sing-along songs, each hand-painted Tonie figurine is a unique listening experience.
Songs:
1. Honor to Us All
2. I'll Make a Man Out of You
3. A Girl Worth Fighting For
4. Reflection
Story:
5. Mulan
Total Run Time: 30 minutes
Description:
The story of Mulan is exciting and extraordinary! Listen along as Mulan disguises herself as a male warrior and joins the military to prevent her sick father from being forced to enlist. Accompanied by her faithful dragon, Mushu, she helps ward off an invasion and falls in love along the way.
 This Tonie teaches kids about:
Confidence

Courage

Staying true to yourself