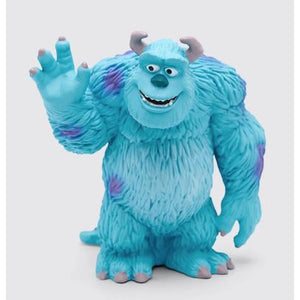 Who will you spend storytime with?
The Toniebox comes to life when paired with our whimsical collection of Tonies: hand-painted characters with hours of stories to tell, worlds to explore, and songs to sing along with. Each collectible character magnetically attaches to the Toniebox, making it simple for little listeners to change stories whenever they want.
Collect them all
Whether educational content, audiobook or sing-along songs, each hand-painted Tonie figurine is a unique listening experience.
Songs:
1. If I Didn't Have You
2. It's Our Job
3. Under the Bed
4. I Only Have Eye For You
Story:
5. Monsters, Inc.
Total Run Time: 33 minutes
Mike and Sully are two monsters working together to scare kids at the largest scream-processing factory. When a little girl, Boo, follows Sulley back into the monster world, he finds his career in jeopardy and his life turned upside down.
This Tonie teaches kids abut:
Building friendships
Teamwork

Not judging a book by its cover