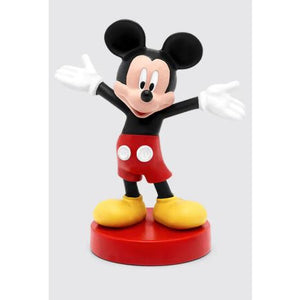 Who will you spend storytime with?
The Toniebox comes to life when paired with our whimsical collection of Tonies: hand-painted characters with hours of stories to tell, worlds to explore, and songs to sing along with. Each collectible character magnetically attaches to the Toniebox, making it simple for little listeners to change stories whenever they want.
Collect them all
Whether educational content, audiobook or sing-along songs, each hand-painted Tonie figurine is a unique listening experience.
Story
Robbery on the Overland Express: A Whodunnit Mystery Storyteller
Total Run Time: 38 minutes
Description:
Mysterious travelers on the Overland Express are after Goofy's valuable set of comic books. Can Mickey Mouse and Goofy get the books to the comic book show – or will a Master Thief steal them first?
This Tonie teaches kids about: 
Teamwork

Problem solving


Perseverance