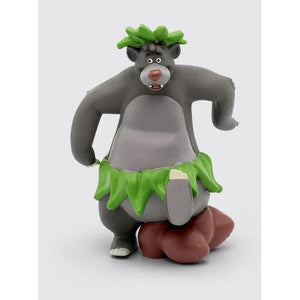 Who will you spend storytime with?
The Toniebox comes to life when paired with our whimsical collection of Tonies: hand-painted characters with hours of stories to tell, worlds to explore, and songs to sing along with. Each collectible character magnetically attaches to the Toniebox, making it simple for little listeners to change stories whenever they want.
Collect them all
Whether educational content, audiobook or sing-along songs, each hand-painted Tonie figurine is a unique listening experience.
Songs:
1. Colonel Hathi's March (The Elephant Song)
2. The Bare Necessities
3. I Wan'na Be Like You (The Monkey Song)
4. My Own Home (The Jungle Book Theme)
Story:
5. Disney The Jungle Book
Total Run Time: 24 minutes
Description:
Enjoy a shortened version of Disney's beloved The Jungle Book. Raised by a family of wolves since birth, Mowgli must leave the only home he's ever known. Guided by animal friends, Mowgli goes on an epic journey of self-discovery filled with fun adventures along the way. Also includes four of the most famous songs from the classic feature film.  

This Tonie teaches kids about:
Strengthening friendships bonds

Problem solving

Learning about new communities

Curiosity and new experiences