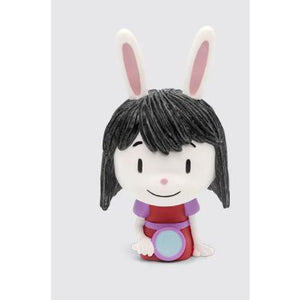 Who will you spend storytime with?
The Toniebox comes to life when paired with our whimsical collection of Tonies: hand-painted characters with hours of stories to tell, worlds to explore, and songs to sing along with. Each collectible character magnetically attaches to the Toniebox, making it simple for little listeners to change stories whenever they want.
Collect them all
Whether educational content, audiobook or sing-along songs, each hand-painted Tonie figurine is a unique listening experience.
Stories:
1. Ms. Mole's Glasses 
2. Backyard Soup
Total Run Time: 30 minutes
Description:
Come and wonder with the curious Elinor Rabbit! Let's ask questions! When Ms. Mole leaves her glasses behind at school, Elinor and her friends, Olive and Ari, track her down to return them. They soon discover that Ms. Mole relies on other senses to get around. Later, when Elinor travels to see her grandparents, she learns that plants grow in different places.
This Tonie teaches kids about:
The Senses (Touch, Taste, and Smell)

Gardening

Plants