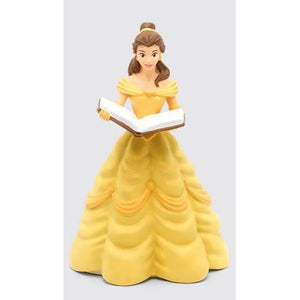 Who will you spend storytime with?
The Toniebox comes to life when paired with our whimsical collection of Tonies: hand-painted characters with hours of stories to tell, worlds to explore, and songs to sing along with. Each collectible character magnetically attaches to the Toniebox, making it simple for little listeners to change stories whenever they want.
Collect them all
Whether educational content, audiobook or sing-along songs, each hand-painted Tonie figurine is a unique listening experience.
Songs:
1. Belle
2. Gaston
3. Be Our Guest
4. Something There
5. Beauty and the Beast
Story:
6. Beauty and the Beast
Total Run Time: 35 minutes
Description:
A spell is cast turning a rude, young prince into a beast until he learns to love and show kindness. Meanwhile, a brave, independent village girl named Belle loves to read books and is daydreaming of a life filled with excitement. When Belle's father Maurice goes missing, she sets out to save him only to discover the Beast has imprisoned him in his enchanted castle. Will Belle save her father and teach the Beast how to love, and be loved in return? Listen to find out and sing along to favorite songs from the Disney animated film!
This Tonie teaches kids about: 
Kindness

Friendship

Loyalty

Determination