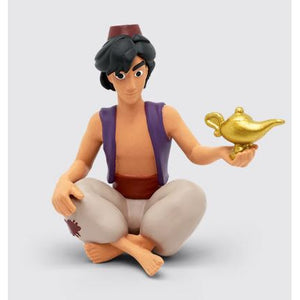 Who will you spend storytime with?
The Toniebox comes to life when paired with our whimsical collection of Tonies: hand-painted characters with hours of stories to tell, worlds to explore, and songs to sing along with. Each collectible character magnetically attaches to the Toniebox, making it simple for little listeners to change stories whenever they want.
Collect them all
Whether educational content, audiobook or sing-along songs, each hand-painted Tonie figurine is a unique listening experience.
Songs:
1. A Whole New World
2. One Jump Ahead
3. Friend Like Me
4. Prince Ali
Story:
5. Aladdin
Total Run Time: 28 minutes
Description:
This Tonie retells the story of Disney's Aladdin - a poor but streetwise young optimist whose life is turned upside down by a magical genie. Aladdin must make a tough decision when he meets Jasmine, a Princess who is set to be married off by her father.
This Tonie teaches kids about: 
Building friendships

Valuing connections over possessions 

Being true to yourself