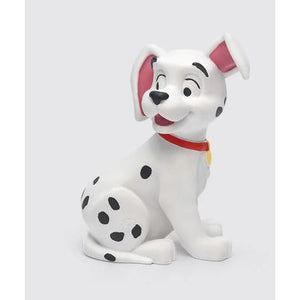 Who will you spend storytime with?
The Toniebox comes to life when paired with our whimsical collection of Tonies: hand-painted characters with hours of stories to tell, worlds to explore, and songs to sing along with. Each collectible character magnetically attaches to the Toniebox, making it simple for little listeners to change stories whenever they want.
Collect them all
Whether educational content, audiobook or sing-along songs, each hand-painted Tonie figurine is a unique listening experience.
Songs:
1. Cruella De Vil
2. Kanine Krunchies
3. Pongo
4. 101 Dalmatians
Story:
5. 101 Dalmatians
Total Run Time: 17 minutes
Description:
In a charming London neighborhood home, Roger and Anita's beloved Dalmatians Pongo and Perdita have become the proud parents of 15 puppies. Now, join a cast of irresistible, tail-wagging characters as they set out on a dramatic quest to rescue the pups from the fabulously outrageous villain, Cruella De Vil, after she dognaps all of the Dalmatians in London!
This Tonie teaches kids about:
Bravery

Strengthening family bonds

Teamwork