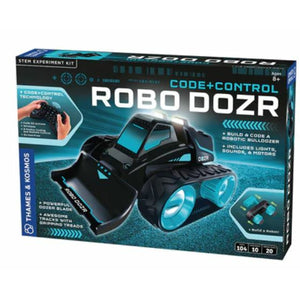 Build a powerful robotic bulldozer and sleek handheld wireless controller. Then use the controller to command your robot to move around in all directions, play sounds, and light up its cab roof lights. The special Code+Control wireless unit enables you to either directly control your Robo Dozr in real time, or write and save sequences of commands for the robot to perform at the push of a button. No app or separate devices are required! With LED lights, a speaker, two motors, flexible tracks, a truck bed, and a hefty bulldozer blade, the Robo Dozr is packed with power and ready for action. 
First, follow the step-by-step instructions to assemble the robot and controller from more than 100 pieces using the included screwdriver and decorate your completed dozer with stickers. Then, learn the function of each button on the controller and how to combine those functions together into programs for your robot. Finally, you can try out the suggested experiments to learn more about how the robot works.  
How many objects can your dozer's blade push around? What surfaces can its gripping tracks crawl over? How much weight can you haul in its truck bed? The Robo Dozr makes hands-on STEM learning fun and accessible. Build your experience in mechanical engineering as you assemble the robot. Discover the various electrical components found inside a robot. Learn how continuous tracks work and read about the vehicles and robots that use them. Build, code, and play — with the mighty Robo Dozr!