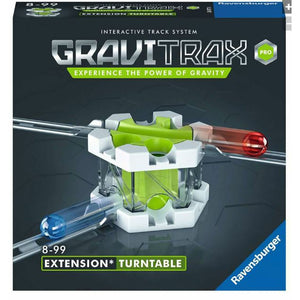 Keep your GraviTrax adventure spinning in new directions!
GraviTrax
 is a modular, electronic-free interactive track system for designing and building an endless variety of custom marble runs.
Connect tracks to all sides of this turntable accessory. As the marbles drop into the holes, they cause the whole thing to turn, so whenever another one enters, it's always sent in a different direction.
Give your marble-run adventure a boost in variability with the GraviTrax PRO Turntable!
GraviTrax PRO - Turntable
Accessory that sends marbles rolling in different directions with each one that enters
Encourages STEM skills, creativity, problem-solving
Includes one GraviTrax PRO Turntable
Fully compatible with all GraviTrax sets
High-quality materials and construction - Lasting durability

Note:

 

This is an accessory. Full GraviTrax set is sold separately.