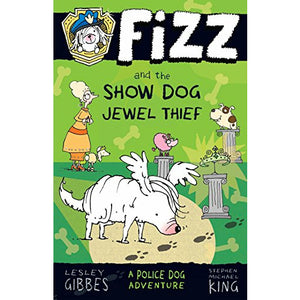 Follow Fizz through his police dog academy tryouts and training to become a dog detective, and on to his first cases.
 
Told in simple but very lively language, with lots of playful repetition, short chapters and Stephen Michael King's quirky cartoon-style illustrations throughout, we think this hilarious and action-packed series is perfect for newly confident readers.
 
Meet Fizz - the daring dog detective!

Book #3 - Today Fizz starts his training to become an undercover police dog. The police dog tryouts were hard, and skills training will be even harder. But Fizz and his new friend Remi are given an extra challenge to test their detective skills. Trainee dogs are being injured and sent home. Sergeant Stern believes it's no accident. He wants to know who is doing this and why. Fizz and Remi must solve the mystery, or they won't graduate as undercover police dogs.