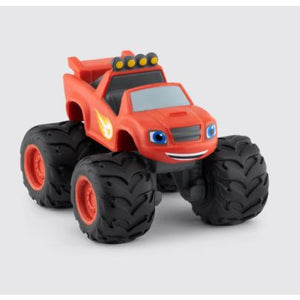 Who will you spend storytime with?
The Toniebox comes to life when paired with our whimsical collection of Tonies: hand-painted characters with hours of stories to tell, worlds to explore, and songs to sing along with. Each collectible character magnetically attaches to the Toniebox, making it simple for little listeners to change stories whenever they want.
Collect them all
Whether educational content, audiobook or sing-along songs, each hand-painted Tonie figurine is a unique listening experience.
Stories:
1. Birthday Cake Chase!
2. Blaze of Glory!
3. Bubble Trouble
4. Falcon Quest!
5. Ready, Set, Tow!
6. Pickle Power
7. Rootin' Tootin' Racetrack!
8. Wind Power!

Total Run Time: 49 minutes
Description:
Blaze, a monster truck, and his driver, AJ, go on adventures in Axle City that have them taking on math and science problems. Joining them is the human mechanic Gabby and their monster truck friends Stripes, Starla, Darington, and Zeg. They face many predicaments caused by Blaze's rival, Crusher, and his sidekick, Pickle, a tractor-trailer that will do anything to beat other vehicles to the finish line. 
This Tonie teaches kids about:
Various STEM concepts

Buoyancy

Elasticity