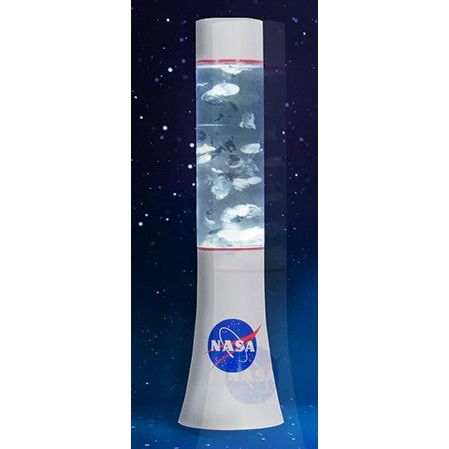 Novelty
NASA Flow Light
Experience the captivating beauty of the cosmos with our NASA-inspired Flow Lamp. Standing tall at 13.2 inches, this lamp is a true celestial delight that will transport you to a realm of wonder and awe.
The Flow Lamp features a sleek white design, complemented by a captivating interior filled with foil space icons. From astronauts to planets and stars, these shimmering shapes bring the magic of space exploration right into your living space.
When you turn on the lamp, prepare to be enchanted. The central column of water is beautifully illuminated, creating a soothing and mesmerizing effect. As the water gently spins, the foil space icons gracefully glide around, casting a  twinkle that evokes the vastness of the universe itself.
Powering the Flow Lamp is convenient and hassle-free. You can choose to connect it to any USB port using the included USB cable, ensuring continuous illumination without the need for batteries. Alternatively, you have the option of using 3 AA batteries (not included) for portable operation, allowing you to place the lamp anywhere you desire.
Read More
More From Novelty
Out of Stock

Mini Lite Brite

Out of Stock

Out of Stock

Fart In A Can

Out of Stock

Out of Stock

Out of Stock

Sparkling Rainbow Baton

Out of Stock

Out of Stock

Multi Voice Changer

Out of Stock