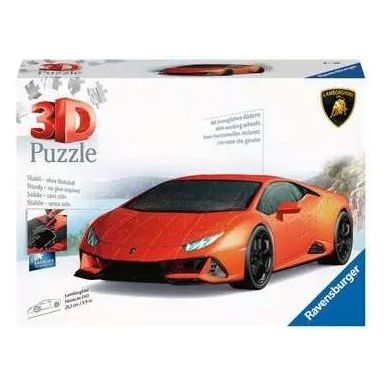 Puzzles
Lamborghini Huracan 3D Puzzle
Take your puzzle fun from 0 to 62 mph in 2.9 seconds with our stunning 1:18 model "Lamborghini Huracan EVO" 3D puzzle, complete with rotating wheels!

Ravensburger has been making the world's finest jigsaw puzzles for over 130 years in Germany. Ravensburger puzzles for adults are made to fit precisely - no matter how large or small the puzzle pieces. All of our jigsaw puzzles are precision-made so that every piece fits perfectly, without frustration.

Best of all, every single piece in this puzzle is unique, no duplicates, for the perfect interlocking fit. 108 curved, truly three-dimensional plastic jigsaw pieces fit together perfectly to form a strong and sturdy replica of this impressive sports car. The turning wheels allow the finished model to be rolled about, or simply put your 3D puzzle on display in your room for everyone to admire!

No glue required thanks to the Ravensburger EasyClick Technology. Either assemble by eye or using the numbers and arrows on the reverse side. Great 3D puzzle for Children 8 years old and up. Difficulty level 5/5 - for advanced 3D puzzlers.
Contents
108 numbered puzzle pieces, 32 accessory parts, instructions
Read More
More From Games, Puzzles, & Books
Out of Stock

Super Mario Blow Up! Shaky Tower

Out of Stock

Out of Stock

Picture Charades

Out of Stock

Out of Stock

Super Mario Piranha Plant Escape!

Out of Stock