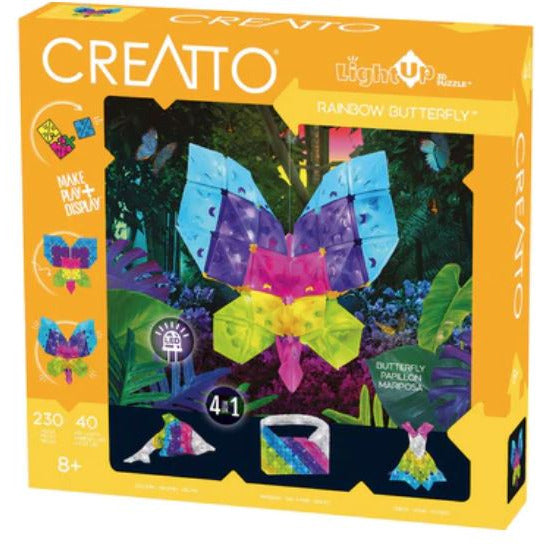 Other Building
Creatto Rainbow Butterfly 3L
Creatto is a simple yet versatile building system that consists of just two primary components that can be woven together into countless 3D creations. The flexible yet durable plastic tiles interlock quickly and easily for all skill levels; no additional materials or hardware required!
With 230 Creatto pieces and a string of 40 LED lights, you can build four beautiful, rainbow-colored models: a butterfly, dolphin, handbag, and designer dress. Battery-powered lights require 2 AA batteries (not included). Suitable for ages 8 and up.
Rainbow butterfly

Rainbow dolphin

Rainbow handbag

Rainbow designer dress
About Creatto:
MAKE: Each Creatto kit consists of just two primary building components that easily weave together into countless different creations!
PLAY: Once your creation is complete, enjoy it as you play! It becomes a prop for carrying out infinite adventures and storylines.
DISPLAY: Your Creatto doubles as a piece of artwork. Display it in your room and let it showcase your creativity and individuality! The string of LED lights makes for a particularly striking sight!
Join the Creatto Community: Share your creations on social media using the hashtag #creatto. Whether it's a model from one of the existing Creatto kits or a totally new idea you've dreamed up, your creation is unique and should be shared! We hope this Creatto community inspires an explosion of creativity and artistry around the world!
Read More
More From Kits
Out of Stock

Mini Lite Brite

Out of Stock

Out of Stock

Craft-tastic DIY Puffy Charms

Out of Stock

Out of Stock

Paint & Peel Jelly Stickers

Out of Stock

Out of Stock

AquaBeads Disney Princess Dazzle Set

Out of Stock

Out of Stock

Crystal Art Secret Diary - Country Pups

Out of Stock