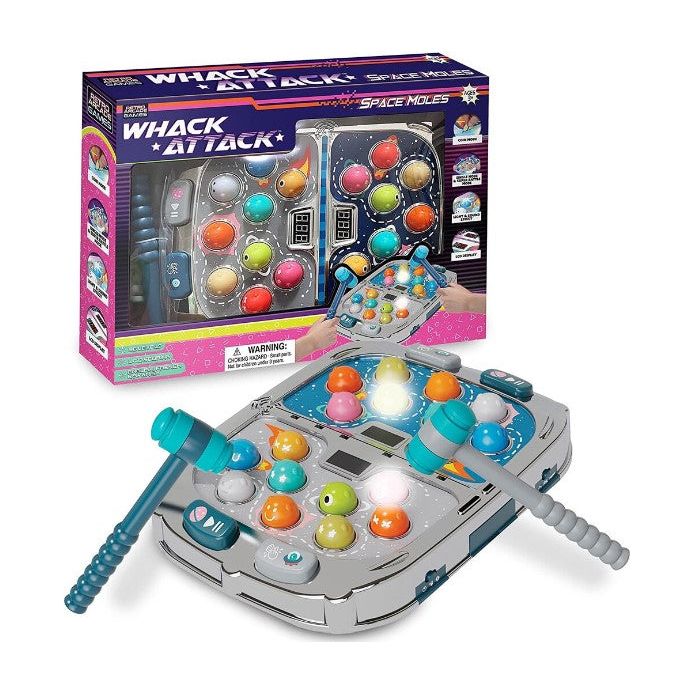 Games, Puzzles, & Books
Whack Attack - Space Moles
Recommended for ages 3 to 12 years      1 to 2 players
PLEASE NOTE: Game requires 4 AA batteries, which are not included.
Let the mole-whacking madness begin!
Get ready for a whack-tastic adventure with the Whack Attack Space Moles game for kids! This electrifying toy will have your little ones giggling with excitement as they whack those pesky space moles with two included hammers. Perfect for boys and girls aged 3 to adult, this interactive game is designed to captivate their imagination and provide hours of thrilling playtime!

With 15 levels and five speeds, kids will have fun while their skills improve. Featuring eye-catching colors, dynamic sound effects and dazzling flashing lights, this Whack Attack Space Moles game will transport your child straight to the arcade. Set it to two-player mode and kids can challenge their friends or family members to epic mole-whacking battles, adding an extra level of excitement and friendly competition to the game.
Built to withstand the most enthusiastic play, the Whack Attack Space Moles game is made from durable materials and requires no assembly, making it a convenient choice for busy parents. Its compact size means it's easy to store when not in use, so you can keep your living room free of mole-mania!
But it's not just about fun and games – the Whack Attack Space Moles game provides valuable educational benefits too! Your child will improve their hand-eye coordination, concentration and reflexes, all while having a blast. It's the perfect balance of learning and play, making it a win-win for both kids and parents alike.
Read More