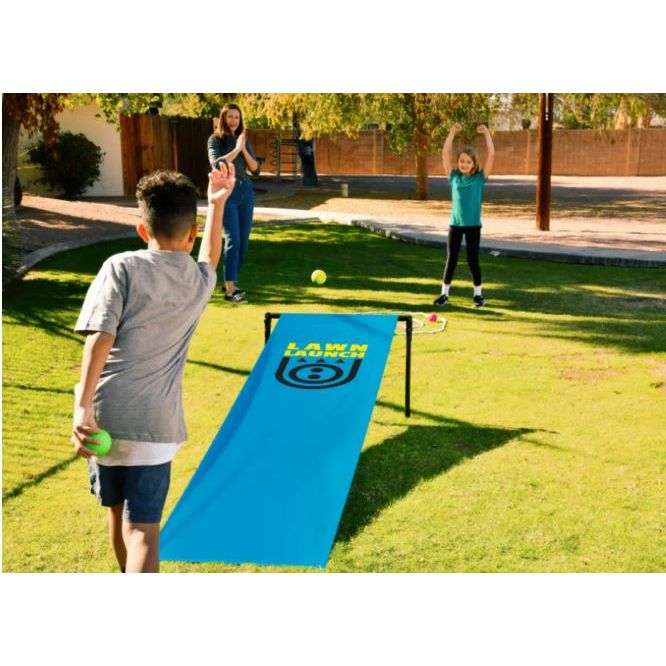 Summer
4FUN Lawn Launch
We're calling families of all shapes and sizes who love to play, stay active and be outside in the fresh air. This giant version of Skee Ball is the perfect game for you and your family. Easily store Lawn Launch in your garage, then set it up during a warm day, and in no time you're ready to make some fun memories you'll remember for years to come.

The game includes a 7-foot nylon ramp, 6 foam balls, 3 scoring rings and a storage bag. All you need is at least 15 feet of space and score cards, and you're ready to play the game.

If you need a reminder on how to play, roll the ball up the ramp, and watch it land in one of the three scoring rings. Keep score. Large ring = 5 Medium ring = 15 Small ring = 20. Whoever gets to 100 points wins! To keep the game more exciting you can always rearrange the scoring rings in different orders. Happy scoring!
Set includes:

 

7

-

foot water-resistant ramp

 with pole to secure into the 

ground

 

Two (2) ancho

r lines

 

Three (3)

 scoring rings

: large, medium, small

 

Six (6)

 3in. colorful 

foam 

balls: 

purple

, red, yellow, green, orange, blue

 
Read More
More From Active Play
Out of Stock

Magnetic Dart Board

Out of Stock

Out of Stock

V1 Soccer Ball

Out of Stock

Out of Stock

OllyBall Girl POWer

Out of Stock

Out of Stock

Dark Side of the Moon Ball

3 Options Available

Out of Stock