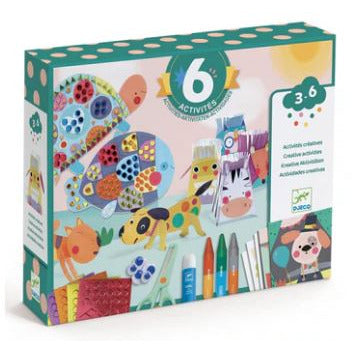 Kits
Animal Houses Multi-Activity Kit
Animal Multi-Activity Kit from Djeco is an all-inclusive set of 6 different creative activities for kids ages 3 to 6 years old. Each project has an animal in their home theme and features the lively, chic Djeco designs we love! Kids gain dexterity and fine motor skills as they complete the projects: collage, coloring, mosaics, cutting, assembly, and transfers. There is something for everyone! Hours of manual activities to discover different creative techniques. All the accessories are provided so that children can engage in any activity, following their own wishes and curiosity. A booklet with step-by-step descriptions provides all the guidance needed to complete the creations.
Djeco craft kits are beautifully designed and made with high quality materials. The final projects are something to be proud of! Craft projects are a great way for children to strengthen fine motor skills.
6 activities to discover: collage, coloring, mosaics, cutting, assembly, and transfers.

Everything is supplied. Tested and quality controlled.

Tons of projects for hours of creativity!

An explanatory booklet in color with pictures only.

Several children can create together. Perfect for birthdays or for the schoolroom.

Develops dexterity, manipulation, precision and creativity.

Learning about colors, shapes, sizes, volume.
Read More
More From Kits
Out of Stock

Mini Lite Brite

Out of Stock

Out of Stock

Craft-tastic DIY Puffy Charms

Out of Stock

Out of Stock

Paint & Peel Jelly Stickers

Out of Stock

Out of Stock

AquaBeads Disney Princess Dazzle Set

Out of Stock

Out of Stock

Crystal Art Secret Diary - Country Pups

Out of Stock