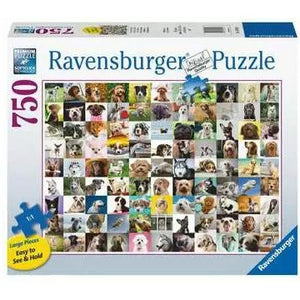 Walk away from your worries and relax with our "99 Lovable Dogs" puzzle!
Every dog has its day, and you're sure to feel lucky puzzling this charming collage of 99 cuddly canines! From playful puppies to sweet seniors, from beagles and bull dogs to a Weimaraner and Yorkie, each puzzle piece is sure to bring a smile. Is your favorite breed a bichon, border collie or black Lab? Or perhaps you're partial to poodles, pugs or Pomeranians? Whichever one is your favorite fur-baby, enjoy some mindful moments piecing together these winsome faces. Woof!
This 750-piece Large Format jigsaw puzzle combines easy-to-handle, clean-cut pieces and Ravensburger's perfect interlocking fit for a most pleasurable puzzling experience. With pieces 30% larger than standard, details are easy to see, so you can complete it in just a day or two. Our puzzles are crafted with an exclusive, extra-thick cardboard backing along with our superior, linen-structured paper, so the printed image is vibrant, crisp, and glare-free. Create memorable moments with Ravensburger premium puzzles!