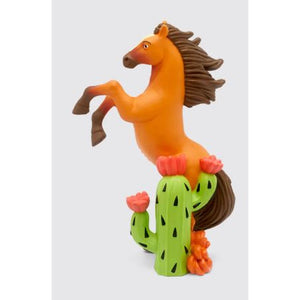 Who will you spend storytime with?
The Toniebox comes to life when paired with our whimsical collection of Tonies: hand-painted characters with hours of stories to tell, worlds to explore, and songs to sing along with. Each collectible character magnetically attaches to the Toniebox, making it simple for little listeners to change stories whenever they want.
Collect them all
Whether educational content, audiobook or sing-along songs, each hand-painted Tonie figurine is a unique listening experience.
Track list:
1. Chapter 1
2. Chapter 2
3. Chapter 3
4. Chapter 4
5. Chapter 5
6. Chapter 6
7. Chapter 7
8. Chapter 8
9. Chapter 9
10. Chapter 10
11. Chapter 11
12. Chapter 12
13. Chapter 13
Total Run Time: 75 minutes
Description:
When Lucky moves west, she starts a new chapter in her life and forms an unbreakable bond with a wild stallion named Spirit. Spirit Untamed is a story of courageous young women and their beloved horses risking everything to do the right thing. Together, the girls and their horses undertake the adventures of a lifetime when they must save the stallion's herd from a gang of horse wranglers, proving to be true western heroines.
This Tonie helps kids:
Friendship

Respecting animals

Problem solving

Perseverance