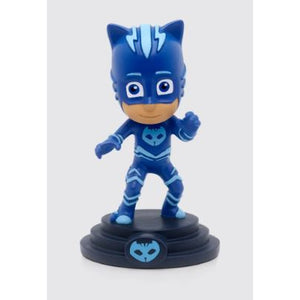 Who will you spend storytime with?
The Toniebox comes to life when paired with our whimsical collection of Tonies: hand-painted characters with hours of stories to tell, worlds to explore, and songs to sing along with. Each collectible character magnetically attaches to the Toniebox, making it simple for little listeners to change stories whenever they want.
Collect them all
Whether educational content, audiobook or sing-along songs, each hand-painted Tonie figurine is a unique listening experience.
Songs and Stories:
1. PJ Masks Theme Song 🎵
2. Catboy vs. Robo-Cat
3. Catboy Squared 
4. Super Super Cat Speed 
5. The Bravest Cat 🎵 
Total Run Time: 64 minutes
Description:
Catboy is one of the fearless members of the PJ Masks! Through friendship, bravery and Super Cat Speed, Catboy helps to keep the city safe. Follow along as Catboy leads listeners through some of his action-packed adventures against night-time villain Romeo.
This Tonie teaches kids about:
Teamwork

Friendship

Bravery

Making good choices