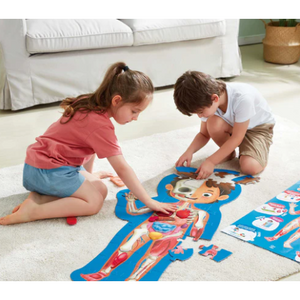 Little ones are fascinated by the human body – watch your child learn all about it on their own with this beautifully illustrated anatomy puzzle for kids. This educational toy helps your child learn through play. They work on their problem-solving skills as they piece together the jigsaw pieces, then position wooden bones, organs and muscles on top of the puzzle. Kids learn how the human body works, and develop a lifelong love for biology and the natural world.
Have you ever wondered how exactly the kidneys help you by cleaning your blood? Find out that and 9 other exciting facts about the body in a double-sided, colorful poster included with the puzzle.
Suitable for 4Y and above
Your little one will understand how bodies work in no time with this beautifully designed puzzle for preschoolers. It's educational – but kids have so much fun, they think they're simply playing!

Once your child has all the jigsaw puzzle pieces in the right place, watch them move wooden parts representing muscles, organs and bones into place on top!
How do your kidneys clean your blood? Learn that and more with a large, double-sided, colorful poster explaining human anatomy facts
Nurture your child's love for science and the natural world at a young age with this beautiful puzzle. Help them develop fine motor skills, hand-eye coordination and problem-solving skills