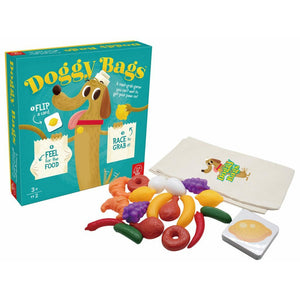 A MAD-GRAB GAME FOR FRANKY'S GRUB -- Franky loves food but he's a picky eater. Use your sensory and memory skills to find him his favorite foods!
HOW TO PLAY -- Split the foods evenly into 2 bags. Draw food cards and race to find the items in your bag. Move quick and no peeking! The first player to feed Franky 5 foods wins.
BRAIN TEASER FOR TODDLERS -- Toddlers will love Doggy Bags' fast-paced, sensory gameplay. Watch them race to build connections between sight and touch.
EASY STORAGE -- One of the doggy bags can double as a carrying case for the game. Take Doggy Bags anywhere!