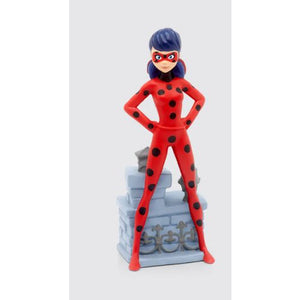 Who will you spend storytime with?
The Toniebox comes to life when paired with our whimsical collection of Tonies: hand-painted characters with hours of stories to tell, worlds to explore, and songs to sing along with. Each collectible character magnetically attaches to the Toniebox, making it simple for little listeners to change stories whenever they want.
Collect them all
Whether educational content, audiobook or sing-along songs, each hand-painted Tonie figurine is a unique listening experience.
Stories:
1. Ladybug & Cat Noir - Origins, Part 1
2. Stoneheart - Origins, Part 2
Total Run Time: 59 minutes
Description:
Flashbacks reveal the story of how Marinette and Adrien transform into their superhero personas, Ladybug and Cat Noir, using magical jeweled objects known as the Miraculous. Their mission: To keep Paris safe from the evil Hawk Moth, all while keeping their secret identities and living normal lives as high school kids.
This Tonie teaches kids about:
Teamwork

Bravery

Balancing the demands of their everyday lives