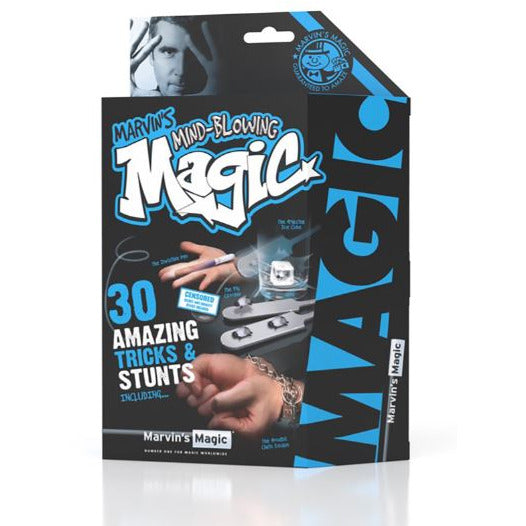 Marvin's Ultimate 30 Tricks & Stunts
IDEAL INTRODUCTION TO THE WORLD OF MAGICAL ILLUSIONS: This collection is the ideal introduction to the world of magical illusions for children aged 8 and above. Using our unique props and easy to follow instructions, you'll learn how some of the most popular illusions are done. You certainly won't this much magic for such good value anywhere else!

GUARANTEED TO AMAZE AND ENTERTAIN ANY AUDIENCE: This amazing magic set is perfect for sharing with friends and family. It includes amazing tricks and stunts such as Instant Vanishing Pen, Incredible Fly Paddles, Frozen in Ice Illusion, Impossible Chain Escape and more. We have specifically designed this set to make maximum impact!

PROFESSIONAL MAGIC MADE EASY: The perfect magic set for children 8 years old + and includes high quality, child friendly props that have been designed for young hands. Looking for the ultimate magic tricks for children? This magician set is a great gift for boys or girls and is fantastic for all skill levels, no prior magic experience is needed. Ideal for beginners or budding young magicians!

FANTASTIC VALUE BOX OF MAGIC TRICKS AND ILLUSIONS: This amazing Mind-Blowing Magic children's magic set is packed with tricks that can be mastered in minutes. Designed for children aged 8 or above, this magic set will enable your little magician to perform for friends and family professional magic tricks. Scan the QR code inside to discover additional online tricks and open the door to a secret webpage full of videos and tricks you can do with everyday objects!

COMPLETE WITH EASY TO UNDERSTAND & CLEARLY ILLUSTRATED BOOKLET: Follow the kid friendly step by step instructions in the booklet provided or download the Marvin's Magic App for exclusive videos on many of these tricks and more. This is the ultimate magic set to inspire and entertain young magicians. The box has enough tricks and props for hours of fun, allowing budding illusionists to learn and wide range of magic skills that will astonish friends and family.
Read More