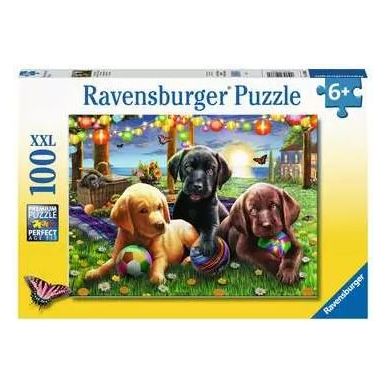 Puzzles
Puppy Picnic 100 pc Puzzle
Our precocious pups are all done after a full day of fun in the fresh air and sun in our "Puppy Picnic" puzzle!  
It's been a busy day for these three adorable Labrador pups, and now they need to take a little rest from the play and excitement. Is their friend going to have a snooze in the picnic basket - or is he just going to eat the rest of the picnic? This early evening scene is aglow with color as bright-toned lanterns hang above a flower-filled meadow with a deep blue sea and turquoise sky beyond. A fun, colorful and great family-friendly pastime for ages 6+.
A moment of calm and fulfilment, away from computer, TV and phone screens. Our 100 piece kids puzzles with XXL large pieces are crafted with premium quality and measure 49 x 36cm when complete. Great puzzles for Children 6 years old and up.
Bestselling puzzle brand worldwide - With over 1 billion puzzles sold, our children's jigsaw puzzles make ideal gifts for boys and great gifts for girls. Perfect toys for your child – Puzzles for toddlers and kids of every age help support a child's development as they play, building skills such as concentration and creativity. Positively Puzzling - From fun family times together to long term health benefits and day-to-day mindful moments, there are so many positives about the humble Jigsaw! They make a great birthday gift or smashing Christmas gift
Read More
More From Games, Puzzles, & Books
Out of Stock

Super Mario Blow Up! Shaky Tower

Out of Stock

Out of Stock

Picture Charades

Out of Stock

Out of Stock

Super Mario Piranha Plant Escape!

Out of Stock