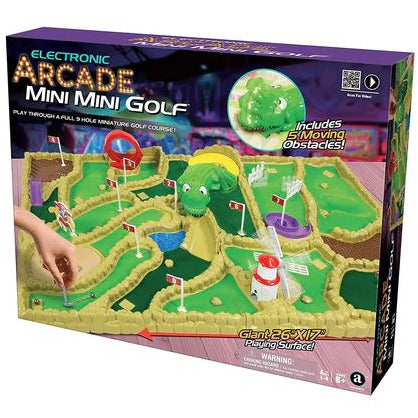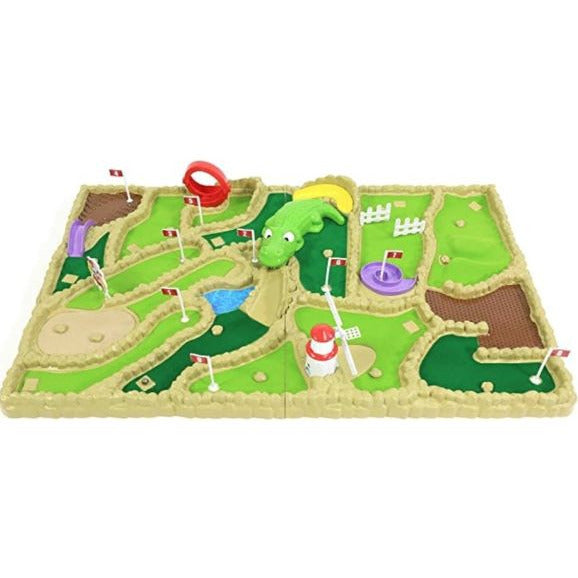 Games, Puzzles, & Books
Arcade Mini Golf
Your own mini golf course! (Emphasis on the "mini".)
Using tiny putters and metal golf balls, players take on a thrilling variety of fun, fascinating, and 
mechanized
 obstacles as they work their way through the nine holes of the course.
There's a windmill that really spins, a ferocious crocodile with jaws that open and shut, tricky gates that swing back and forth, and more. Do you have the skills and timing to get a hole-in-one every time?
The Game Zone Arcade Mini Golf may be the smallest putt-putt course you've ever played, but it's the biggest putt-putt challenge you'll likely ever attempt!
Game Zone Arcade Mini Golf
Tabletop mini golf course with mechanized obstacles
Encourages spatial reasoning, hand-eye coordination, concentration
Features spinning windmill, chomping crocodile, swinging gates, and more
9 obstacle-filled holes to complete
Includes 9-hole mini golf course, 2 putters, 8 metal balls, scoring pad
Detailed instructions included
Requires 3 AA batteries - Not included
Mini golf course measures 26 x 16.5 inches
Quality materials and construction
Read More