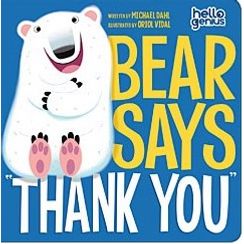 Games, Puzzles, & Books
Bear Says "Thank You"
When Little Bear has a BIG project, he needs lots of help from Mama Bear. He remembers to thank her all along the way, right up to a sweet surprise. Thank you for using your manners, Little Bear! This sturdy board book in the Hello Genius series presents learning manners in fun and age-appropriate story.
Read More
More From Baby Books
Out of Stock

Lights 'N' Music Baby Book

Out of Stock

Out of Stock

Noisy Dinosaurs

Out of Stock

Out of Stock

Noisy Baby Animals

Out of Stock

Out of Stock

Dance with the Dinosaurs

Out of Stock

Out of Stock

Noisy Animals

Out of Stock

Out of Stock

The Perfect Birthday Recipe

Out of Stock

Out of Stock

8 Little Planets

Out of Stock

Out of Stock

Penguin Says Please

Out of Stock

Out of Stock

Little Sunbeams Religious Lift-A-Flap 4 Book Set

Out of Stock

Out of Stock

Out of Stock

Night Night Arkansas

Out of Stock

Out of Stock

Noisy First Words

Out of Stock

Out of Stock

Octopus Opposites

Out of Stock

Out of Stock

Hello Baby! Buzz, Buzz

Out of Stock

Out of Stock

The Little Fire Truck

Out of Stock

Out of Stock

Goodnight Tractor

Out of Stock