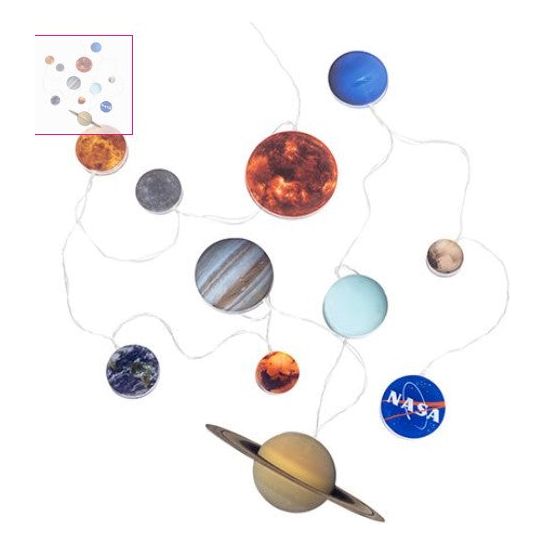 Novelty
NASA Solar System String Lights
Introducing our NASA-inspired Solar System String Lights, a captivating addition to your space-themed decor that brings the wonders of the cosmos into your living space. Featuring nine planets, including the Sun, and the iconic NASA logo, these string lights are an enchanting representation of our celestial neighborhood.
Measuring 6.5 feet in length, the string lights effortlessly illuminate any room with a cosmic glow, making them the perfect choice for parties, bedrooms, or creating an otherworldly atmosphere.
Each planet in the solar system string lights is beautifully crafted, from the majestic rings of Saturn to the fiery redness of Mars.  Powered by 2 AA batteries, these lights  provide convenient portability, allowing you to place them anywhere you desire without the need for a power outlet. .
Whether you hang them across your walls, drape them over furniture, or use them to add a touch of cosmic charm to your outdoor spaces, our NASA-inspired Solar System String Lights are a stellar choice. Let the celestial beauty of these lights ignite your imagination and transport you to the far reaches of the universe, all from the comfort of your own home.
Read More
More From Novelty
Out of Stock

Mini Lite Brite

Out of Stock

Out of Stock

Mudpuppy Kaleidoscope

6 Options Available

Out of Stock

Out of Stock

Fart In A Can

Out of Stock

Out of Stock

Out of Stock

Sparkling Rainbow Baton

Out of Stock

Out of Stock

Out of Stock

Multi Voice Changer

Out of Stock