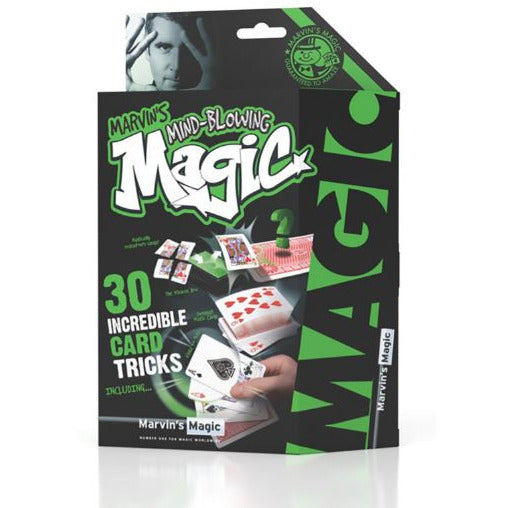 Marvin's Ultimate 30 Card Tricks
GUARANTEED TO AMAZE AND BAFFLE ANY AUDIENCE: The definitive collection of card tricks that novices and experienced magicians will love. This is the only card trick set you'll ever need! A must-have collection of card tricks for the budding David Blaine, Marvin's 30 Incredible Card Tricks has literally every trick in the book! Marvin's Magic are proud to have won many accolades and have the largest following of young magicians anywhere.

TRICKS SUITABLE FOR BEGINNERS OR PROFESSIONALS: Card tricks are fantastic traditional magic tricks for children and this great Marvin's Magic Mind-Blowing 30 Card Tricks Set will allow kids (or adults) to easily pick up those famous card tricks they know, and many they don't! Including a handy instruction booklet that's easy to follow so you can pick up he tricks in no time at all.

PROFESSIONAL MAGIC MADE EASY: The perfect magic set for children 8 years old + and includes high quality, child friendly props that have been designed for young hands. Looking for the ultimate magic tricks for children? This magician set is a great gift for boys or girls and is fantastic for all skill levels, no prior magic experience is needed. Ideal for beginners or budding young magicians!

A MUST-HAVE COLLECTION OF CARD TRICKS: Follow our illustrated guide to learn amazing tricks like tear and repair cards, change colours, mark cards, teleport cards, turn a blank card into a real card, predict the card someone will choose and over 30 more! Perfect for budding young magicians, professional adults or beginners with tricks that range in difficulty – there's something for everyone!

POWERFUL GROWN-UP MAGIC THAT CAN BE MASTERED BY CHILDREN: Seriously baffling card tricks including very special cards and easy to follow instructions to amaze and impress in minutes. Many of the outstanding and bewildering tricks you have seen performed by professional magicians are based on dexterity, skill and many years of practice.
Read More