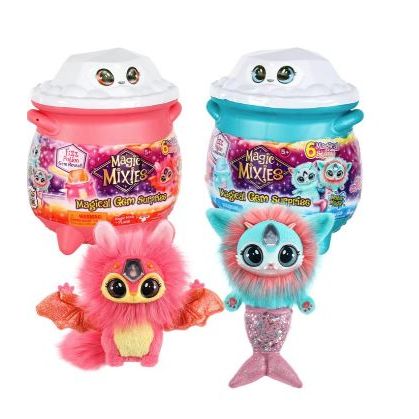 Trending Toys
Magic Mixies - Magical Gem Surprise Cauldron
Experience the enchantment of the Magic Mixies Magical Gem Surprise Cauldron and be amazed by who you can create inside this medium-sized cauldron! The Magical Gem Surprise Cauldron introduces children to the magic of the elements, where they can discover Elemental Mixie Plushies and Magic Rings.
To begin the magic, sprinkle the Bubble 'N' Fizz Dust into the cauldron, name your Mixie by writing on the Naming Scroll, and drop it inside. Use the included wand to add water and watch as the cauldron bubbles and fizzes, leading to a magical Gem popping out of the top - it's truly a spectacle! Upon opening it, your little one will discover a non-electronic Magic Mixie Plushie inside the Gem and a matching Elemental Magic Ring.
Children will love witnessing their color-changing Ring's magic as it reflects the element and the lenticular Gem on their Mixie Plushie's head. With four Mixie Plushies to create and collect, the Magic Mixies Magical Gem Surprise Cauldron provides a genuinely magical unboxing experience that will astound and delight children as they make a new furry friend!
Bubble & Fizz Potion Making.
Pop-Up Crystal Gem Reveal.
6 Magical Steps.
Color-Change Rings.
4 Mixie Plushies to Create and Collect!
Each sold separately
Read More