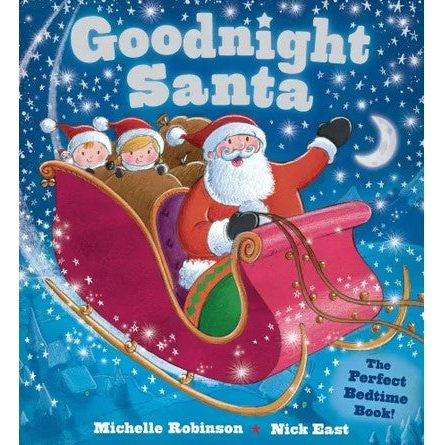 Christmas Books
Goodnight Santa
 Getting ready for bedtime during the holiday season has never been so much fun! Cozy, jolly rhymes weave Christmastime magic in this holiday story - with a goodnight twist.
Follow along on Santa's epic visit, from his workshop and his list, to reindeers flying through the skies, bringing gifts of every shape and size! This book is perfect for celebrating the most wonderful time of the year as kids settle into bed and say "night night" to those sugar plums in their head.
A story about Santa's journey to the north pole that's perfect for young fans of Polar Express as they go full steam ahead with Santa's sleigh into dreamland. The perfect gift for starting a new family holiday bedtime tradition.
Best gift book idea for:
Stocking stuffers
Toddlers and kids who enjoy winter wonderlands and Santa's magic sleigh.
Kids aged 1 – 4 years old.
Calming rhyme perfect for bedtime relaxation routines and family read alouds.
Cute, colorful art that's sure to make it a storytime favorite. 
Goodnight snowman. Goodnight choir.
Goodnight stockings by the fire.
Goodnight tree and mistletoe…
Santa's coming!
Ho ho ho!
Read More
More From Christmas Books
Out of Stock

Little Sparkly Christmas Sticker Book

Out of Stock

Out of Stock

Nativity Touchy-Feely

Out of Stock

Out of Stock

Winter Wonderland Sticker Book

Out of Stock

Out of Stock

Little Sparkly Christmas Trees Sticker Book

Out of Stock

Out of Stock

Twas the Night Before Christmas in Arkansas

Out of Stock

Out of Stock

Merry Christmas, Splat

Out of Stock

Out of Stock

Laugh Out Loud Christmas Jokes

Out of Stock

Out of Stock

Don't Tickle the Reindeer

Out of Stock

Out of Stock

How to Catch a Gingerbread Man

Out of Stock

Out of Stock

Santa's Underwear

Out of Stock