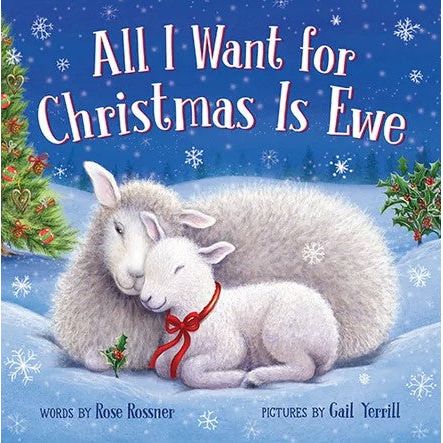 Christmas Books
All I Want for Christmas is Ewe
 Wrap your little one in love with this sweet board book during the most punderful time of the year!
Wish your little sugarplum a beary Merry Christmas and jingle all the way with this heartwarming story for babies and toddlers! Combining beautiful illustrations, charming animal puns, and the evergreen message of love, All I Want for Christmas is Ewe is a moovelous way to celebrate the season and share your love for each otter.
For fans of I Love You Like No Otter, this cute holiday treat is the best book gift for kids and animal lovers ages 0-3—made just for their little hands! The perfect addition to any Christmas gift, holiday stocking stuffer, baby shower gift, or festive read aloud.
More charming stories from Punderland, the perfect gift for any occasion
I Love You Like No Otter
I Love You More, Babysaur
Somebunny Loves You
Donut Give Up
Happy Meow-loween, Little Pumpkin
and more!
Read More
More From Christmas Books
Out of Stock

Little Sparkly Christmas Sticker Book

Out of Stock

Out of Stock

Nativity Touchy-Feely

Out of Stock

Out of Stock

Winter Wonderland Sticker Book

Out of Stock

Out of Stock

Little Sparkly Christmas Trees Sticker Book

Out of Stock

Out of Stock

Twas the Night Before Christmas in Arkansas

Out of Stock

Out of Stock

Laugh Out Loud Christmas Jokes

Out of Stock

Out of Stock

How to Catch a Gingerbread Man

Out of Stock

Out of Stock

Santa's Underwear

Out of Stock