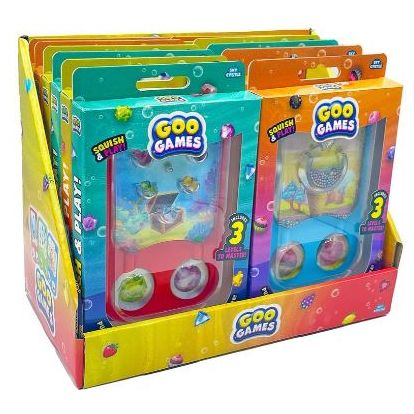 Stocking Stuffers
GooGames
Discover the captivating world of GooGames - a thrilling sensory water adventure that brings enchantment to your fingertips! Dive into an aquatic wonderland of squishy play and mesmerizing water movements, all within the palm of your hand.
Key Features: 
MESMERIZING PEARLESCENT SWIRLS: Watch in awe as the pearlescent powder inside creates a dazzling display of colors and swirls with every move. The water dances and shimmers, making each GooGame experience truly magical.
SQUISHY SENSORY BUTTONS: Engage your tactile senses with the squishy buttons that allow you to control the water flow inside the game. It's a delightfully satisfying experience that brings joy to players of all ages.
POCKET-SIZED ENTERTAINMENT: Designed to resemble the sleek elegance of an iPhone 12 PRO, GooGames are conveniently sized to fit in your pocket. Take them anywhere for on-the-go fun and excitement!
IMAGINATIVE PLAY: GooGames are more than just toys. They can take you to a world of imaginative play where your mind can wander. They make great companions for both relaxation and adventure.
PERFECT GIFT: Looking for a gift that will amaze and entertain? GooGames make the perfect present for birthdays, holidays, or any special occasion. Children and adults alike will be delighted by the mesmerizing water movements and the joy of squishing their way through aquatic adventures.
QUALITY CRAFTSMANSHIP: Each GooGame is meticulously crafted using high-quality materials, ensuring durability and long-lasting enjoyment. The sleek design, pearlescent powder, and tactile buttons all come together to create a premium sensory experience.
UNLEASH THE MAGIC: Experience the enchanting world of water manipulation with GooGames! Play for hours and get lost in this immersive experience.
Read More