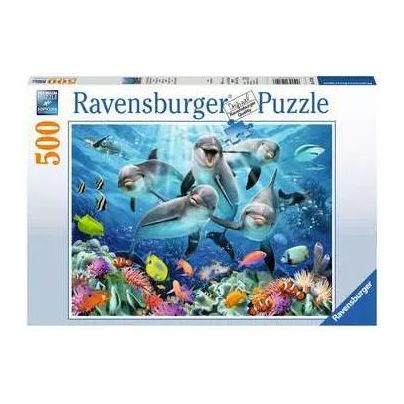 Puzzles
Dolphins in the Coral Reef 500 pc Puzzle
Take a swim in the crystal-clear waters of our "Dolphins in the Coral Reef" puzzle and enjoy spending some relaxing hours with these smiling friends!
If dolphins could talk, what would this happy quintet say? Maybe, "Come on in, the water's fine!" Along with this friendly group you'll see a sea turtle, Moorish idol fish, clownfish, and much more. Did you know there are 43 species of dolphins? The life expectancy of the common bottlenose dolphin is 20–50 years! Most dolphins can stay underwater for 8–10 minutes, while some can stay under up to 15! But there's no need to hold your breath to enjoy some "me time" and relaxing puzzle fun!
This 500-piece jigsaw puzzle combines captivating imagery with clean-cut pieces and Ravensburger's perfect interlocking fit for a most pleasurable puzzling experience! Our puzzles are crafted with an exclusive, extra-thick cardboard backing along with our superior, linen-structured paper, so the printed image is vibrant, crisp, and glare-free. Create memorable moments with Ravensburger premium puzzles!
About the Artist: Howard Robinson is known as the artistic master of adorable animals, with detailed illustrations of various creatures brimming with personality, which invariably invoke a smile! Howard says he is living the dream, and that his work and hobbies have become one and the same.
Read More
More From Games, Puzzles, & Books
Out of Stock

Super Mario Blow Up! Shaky Tower

Out of Stock

Out of Stock

Picture Charades

Out of Stock

Out of Stock

Super Mario Piranha Plant Escape!

Out of Stock