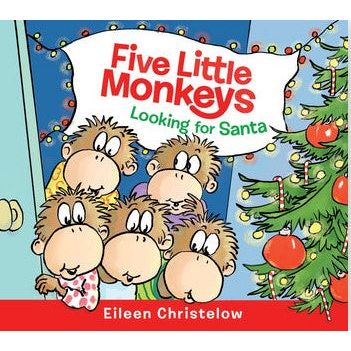 Christmas Books
Five Little Monkeys Looking for Santa
Celebrate Christmas with the Five Little Monkeys as they try to wait up for Santa Claus in this cozy holiday board book.
"He won't visit while you're still awake, so go back to bed, for goodness' sake!"
It's Christmas Eve, and the Five Little Monkeys are so excited, they can't sleep. They're sure that every little noise they hear is Santa, and not even Mama's and Grandpa's warnings can keep them from jumping out of bed again and again to look! Will those silly little monkeys find a way to get a glimpse of him and his sleigh before the night is over? 
Beloved, best-selling picture book creator Eileen Christelow perfectly captures all the excitement and cozy anticipation of Christmas in this warm holiday story.
Read More
More From Christmas Books
Out of Stock

Little Sparkly Christmas Sticker Book

Out of Stock

Out of Stock

Nativity Touchy-Feely

Out of Stock

Out of Stock

Winter Wonderland Sticker Book

Out of Stock

Out of Stock

Little Sparkly Christmas Trees Sticker Book

Out of Stock

Out of Stock

Twas the Night Before Christmas in Arkansas

Out of Stock

Out of Stock

Merry Christmas, Splat

Out of Stock

Out of Stock

Laugh Out Loud Christmas Jokes

Out of Stock

Out of Stock

Don't Tickle the Reindeer

Out of Stock

Out of Stock

How to Catch a Gingerbread Man

Out of Stock

Out of Stock

Santa's Underwear

Out of Stock