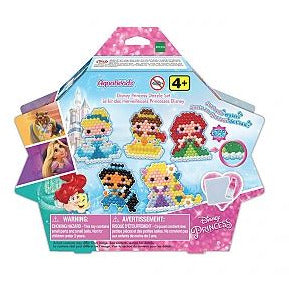 Kits
AquaBeads Disney Princess Dazzle Set
"Inspire creativity with Aquabeads Star Bead Studio, the original ""stick with water"" arts and crafts bead activity toy.
The Disney Princess Dazzle Set features over 600 star and solid beads in 26 vibrant colors. New star bead shapes add depth and dimension to your designs, for advanced bead creations! This set also includes sprayer, template sheets, and instructions.
Following the template design, place the beads onto the layout tray to create your design. Using the sprayer, spray water onto the beads to make them magically stick together!
Aquabeads was created by Epoch Co., Ltd. in 2004 as the original """"stick with water"""" bead toy.
Aquabeads is suitable for girls and boys ages 4 and above. Not suitable for children under age 3 due to small parts."
Complete Arts and Craft Bead Kit from Aquabeads featuring Disney Princesses
Features over 600 solid, jewel and new star shaped beads in 26 vibrant colors. New star beads add depth and dimension to add flair to each Disney Princess design!
Complete kit includes layout tray, sprayer, template sheets and instructions
Add to your bead collection with Aquabeads theme refills, bead refills and accessories!
Aquabeads is suitable for girls and boys ages 4 and above. Not suitable for children under age 3 due to small parts
Read More
More From Craft
Out of Stock

Gingerbread House Holiday Wood Paint Kit

Out of Stock

Out of Stock

Mini Bake Shop

Out of Stock